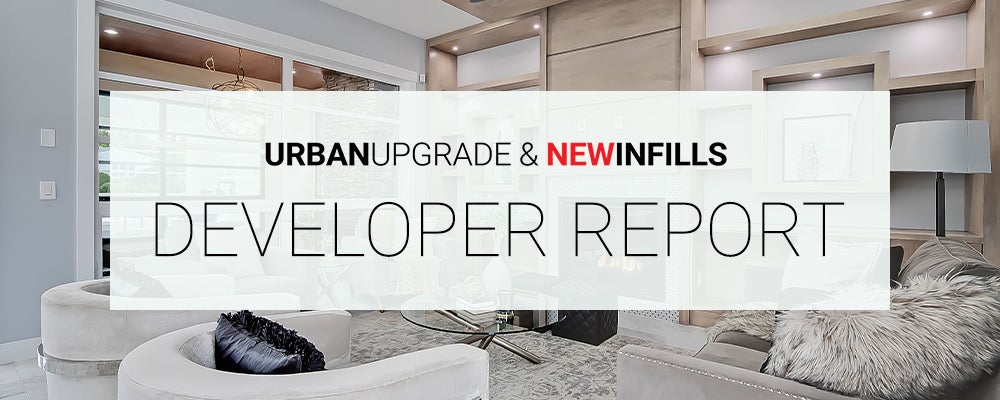 As we close the chapter on 2020, new infill sales finished the year on a high note, once again posting another strong month, and showing signs of improved confidence following a rather turbulent year. 
Single family new infills posted 24 sales during the month of December, down slightly from the 25 sales recorded last month, and up from the 21 sales recorded in December of last year. Single-family new infill sales totalled 299 for 2020 – only lagging behind 2019 by 7.7%, and an improvement over the 285 total sales posted in 2018.
Single family new infill inventory dropped to 137 active listings, compared to 160 active listings recorded last month, and down considerably from the 175 active listings recorded at this time last year.
New infill townhomes posted another healthy month, with 8 sales on record, matching the strong sales activity from last month, and up considerably from the 4 sales recorded in December of last year.
Total townhome sales for the year hit 98 units, up over 32% compared to 2019, and up over 55% compared to 2018. Remarkably, 2020 posted the strongest year for townhome sales since 2016, which saw a total of 100 units sold.
New infill townhome inventory currently sits at 53 units for sale, down from 71 active units recorded last month, and 61 active units recorded at this time last year.
Despite a strong second half and a better than expected finish to 2020, it is important to note that in the last two weeks of 2020, a substantial number of listings were removed from the market in anticipation of the slower holiday season. As we enter a new calendar year, we expect that much of the inventory will return to the market in the coming weeks, most notably 32 units in the single family segment and 11 townhomes in the multi-family segment.
Although sales came to an abrupt halt after the first shutdown was announced last Spring, new infill sales rebounded in the Summer and maintained momentum through the second half of the year. When combined with declining inventory levels, record low interest rates, and optimism surrounding a vaccine; we are cautiously optimistic that new infill activity will remain steady in the coming months, especially with the prospect of a proper spring market on the horizon.  
CALGARY MARKET UPDATE (CREB)
CREB, January 4, 2021
- With December sales of 1,199, this is the highest December total since 2007.
"Housing demand over the second-half of 2020 was far stronger than anticipated and nearly offset the initial impact caused by the shutdowns in spring. Even with the further restrictions imposed in December, it did not have the same negative impact on housing activity like we saw in the earlier part of the year," said CREB® chief economist Ann-Marie Lurie.
Attractive interest rates along with prices that remain lower than several years ago have likely supported some of the recovery in the second half of the year. However, it is important to note that annual sales activity declined by one per cent compared to last year and remain well below long-term averages.
New listings in December increased by 11 per cent. However, the number of sales exceeded the number of new listings in December contributing to further declines in inventory.
Reductions in supply and improving demand in the second half of the year have contributed to some of the recent price improvements in the market. However, the recent gain in the benchmark price was not enough to offset earlier pullbacks as the annual residential benchmark price in Calgary declined by one per cent over last year.
The pandemic has resulted in a significant shift in economic conditions, yet the housing market is entering 2021 in far more balanced conditions than we have seen in over five years. This will help provide some cushion for the market moving into 2021, but conditions will continue to vary depending on price range, location, and product type.