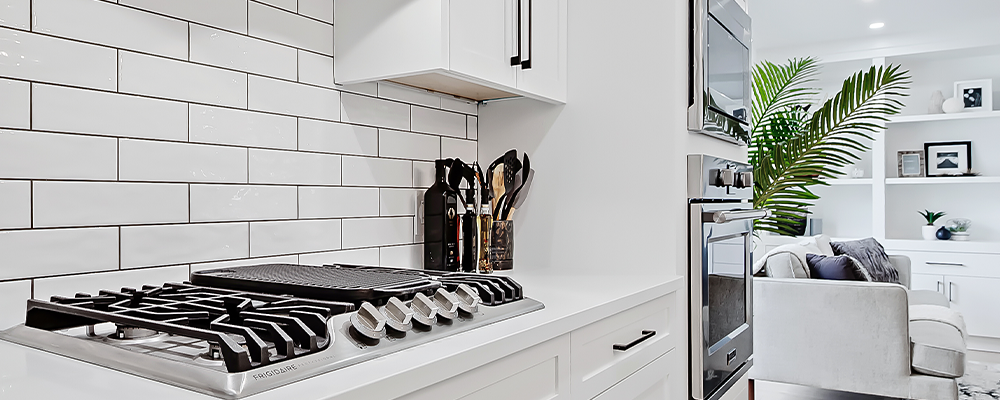 When you're building an infill, the upgrade options are infinite!
 How do you choose? Below is a list of our favourites, all of which offer value, convenience, and elevated design. You can't go wrong with these 10 upgrades in your new infill:
Extra Tall and/or Vaulted Ceilings
There's nothing more satisfying than walking into a new home and seeing soaring tall ceilings or grand vaults. It elevates the craftsmanship of the home, making it feel much more expensive and open, conveying an element of elegance, instilling instantaneous confidence in the quality of the home.

Heated Floors
The comfort offered by heated floors is out of this world, especially with tile. Master ensuites and basements are common spaces to find upgraded heated floors, and we are here for it. Feet want heat - need we say more?

Ceiling Speakers
Whether they're used for a family dance party in the kitchen, surround sound in the theatre/rec room, relaxing music in the master suite, or all three, ceiling speakers are an upgrade the whole family will love!
Home Automation
There are many reasons to love home automation, but lower utility costs, better home security, and convenience are at the top. There are many provider options and add-ons, so the possibilities and customizations are endless, and any smart device is a remote control.

Upgraded Appliances
Home chefs love this upgrade because it levels up the meal prep experience. Consider upgrading to an extra wide range, a side-by-side fridge/freezer, a cooktop with a wall oven and microwave, or a bar fridge is always a big hit. It's also good to note that integrated/panelled appliances and quality name brands, i.e. Viking, Thermador, Wolf, Miele, etc., hold a lot of weight when it comes to resale. 
Ceiling Height Kitchen Cabinetry
Since it's more and more common for infills to have tall ceilings, especially on the main level, it's worth upgrading the kitchen cabinets so they're finished up to the ceiling. While the biggest perk is a more finished look, they also serve practical functions, such as more cabinet space, and they're easier to maintain due to there being zero space for dust to collect.

Open Web Joist Construction in Basements
Say farewell to basements with low ceilings and bulky bulkheads. Open web joist construction in the basement means electrical, plumbing, HVAC, etc., can run through the open webbing. This eliminates the need to run them under regular i-joists and conceal them with bulkheads. The results are clean lines, taller ceilings, and more open space.

Upgraded Party Wall
This one is simple. Upgraded party wall = increased soundproofing and privacy. You'll thank us later!

Open Riser Staircase
Open riser stairs offer a stylish way to add a little flair to the interior design AND visually open up the space. They're also easier to keep clean with no risers to help dust and debris accumulate.

Hardwood Upstairs
Speaking of cleaning, hardwood floors upstairs are a game-changer. They're easier to clean, more durable than carpet, and help maintain a home with less dust and allergens. And if those reasons aren't enough, they can elevate the home's value because hardwood is associated with quality. Also, kick it up a notch by adding hardwood to the basement level!