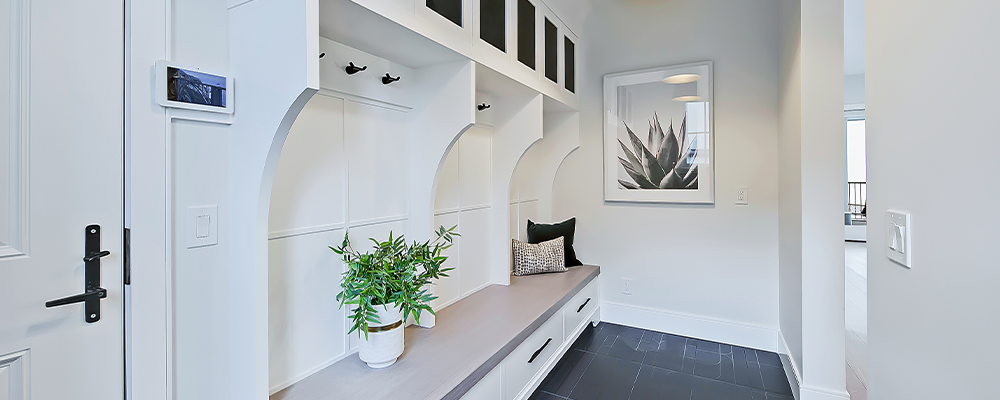 When you're building an infill on spec, choosing the right amount of upgrades is incredibly important.
An infill that is under-built for the market can often sit unsold, consistently being overlooked by buyers in favour of more upgraded alternatives. An under-built home often sells at a price well under expectations, which impacts a builder's profit margin.
On the other hand, an infill that has been over-built or over-upgraded for the market can also impact a project's profitability. Buyers aren't always willing to pay for every upgrade that goes into a home, especially if the upgrade is not to their taste or not something that they value.
Although the right level of finishing for the market varies substantially across different communities, property types, and price points, the following upgrades are generally a good idea to incorporate if you wish to maximize saleability.
9' and 10' Ceilings
These days, buyers expect a minimum of 9' ceilings on every level of an infill home, although it is best to have at least 10' on the main floor. Taller ceilings make a home feel larger, which is very important for resale value. On the flip side, nothing kills an infill sale quicker than 8' ceilings, which make a home feel small and cramped.
8' Passage Doors
Taller ceilings come with an expectation for taller doors; after all, a standard 6'8" door looks small and underwhelming in a room with 10' ceilings. Lower price points can get away with hollow-core options for cost-effectiveness, while higher price points should consider solid-core.
Basement In-Floor Heat
Heated basement floors are some of the most-requested infill features, and since in-floor heat cannot be added later on, it is crucial to plan for this upfront. Simply roughing in the system is more than adequate for lower price points; however, estate level infills should have the complete system installed.
Mud Room with Lockers
Whether a single, couple, or family with children - all infill buyers desire a place to comfortably house their shoes, coats, and other outerwear away from the main living space and out of the view of guests. A basic locker system with a lower shelf and upper hooks is suitable for entry-level homes, while higher price points may wish to incorporate more built-ins and a proper closet.
Ceiling-Height Kitchen Cabinetry
The kitchen is the most important room for resale value in any home, especially for infills that rely on open-concept design for functionality. Ceiling-height cabinets not only visually make a kitchen feel larger but also offer much-improved storage. Entry-level price points can usually get away with building upper cabinetry into a bulkhead, while estate-level homes should always consider full cabinetry.
Upgraded Tile
Tile selections in the kitchen and bathroom can make or break the design of an infill. The wrong tile can make a home feel dated or cheap, while the right tile can really set the tone for the style of the home. The perfect tile is stylish yet timeless and matches the overall aesthetic of the home's finishes.
Hardwood Upstairs
Simply adding hardwood floors to the upper level can instantly make a home feel more luxurious. Although some buyers desire hardwood throughout the upper floor, most buyers are happy to see carpet in the bedrooms and only have hardwood through the upper hallway area, which doesn't break the bank.