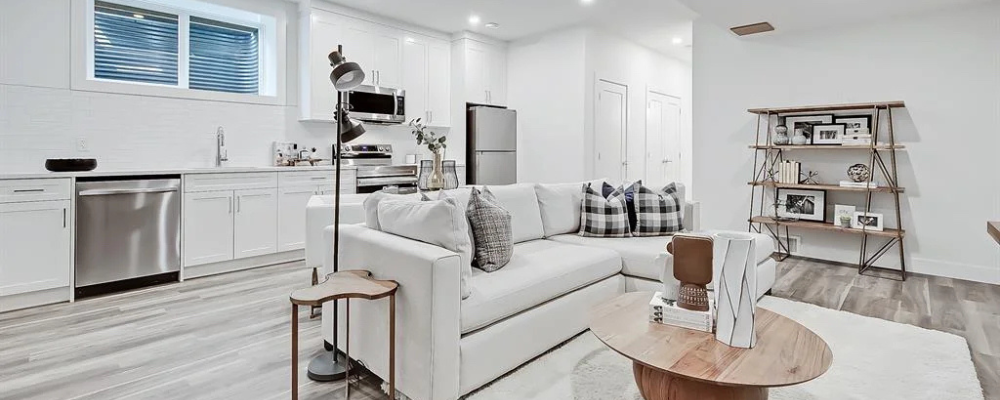 Buying an infill with a legal basement suite is becoming more popular as housing is getting to be more expensive and interest rates are on the rise.
They allow a homeowner to subsidize their mortgage payments with rental income, making home ownership more affordable.  We are also seeing a lot of investors examining an infill with a suite as an attractive acquisition, given the high rental rates seen on new, inner-city homes. But just how does the rental income affect a buyer's ability to qualify for a mortgage? Here are some answers to some of the most seen FAQ, as provided by our friends at
MMG Mortgages
!
Q: Can a buyer apply 100% of expected rental income towards qualifying? 
Every bank has different "rental offset" policies, so this will depend on which bank a buyer is working with. Most banks use a standard 50% offset of potential rental income, however there are a number of lenders that will use 75% all the way up to 95-100% offset, which makes a huge difference in the qualifying income needed to purchase a home with a suite. The best rental offsets tend to be when the property will be owner occupied and there is a legal suite – as opposed to when the property will be a rental property with 2 suites.
Q: Do the banks require a signed rental contract to be in place for the suite to be able to put the rental income towards qualifying?
Although some lenders may request a copy of a signed lease to confirm actual rental amounts if one exists, the vast majority of lenders will use what is called a "market rents analysis" to determine the fair market rent of the suite. Essentially, this is a third party report that estimates the market rent for the suite based on other similar properties in the area. 
Q: Who is the best lender to work with when buying an infill with a suite? 
All banks handle the rental offset differently, and will offer different rates and terms for their loans. So, this is not a simple question to answer, it really depends on the total financial picture. The best lender for a purchase really comes down to what is most important to a buyer, as well as how tight they are for qualifying. A good mortgage broker should know the options and be able to select the best fit for their client. As an example a buyer may be best suited to go with TD due to income qualifying programs, but they may not have the most aggressive rental offset. 
Are you interested in buying a home with a suite? We can help!