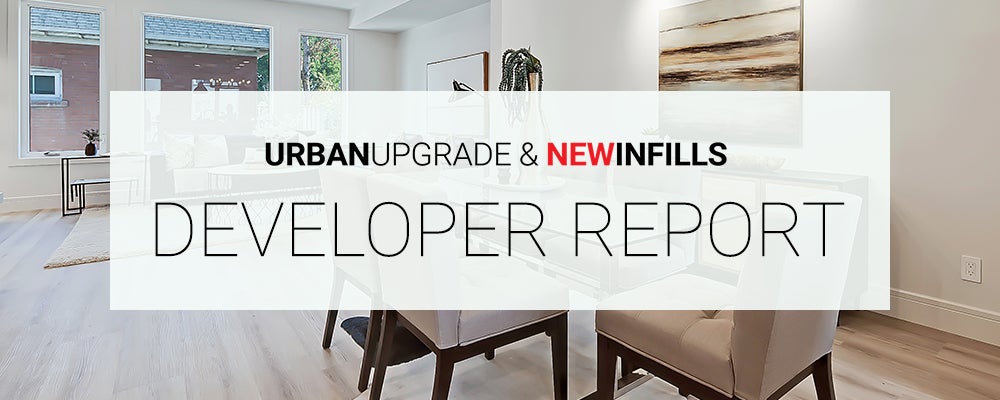 New infill sales hold steady despite historically low inventory levels and upward-trending interest rates. 
Single-family new infills posted 35 sales during the month of June, down from 44 sales recorded last month but up from the 19 sales recorded in June of last year.
Single-family new infill inventory has declined to 129 active listings from 149 active listings recorded last month, but up slightly from the 120 active listings recorded at this time last year.
New infill townhomes posted 4 sales during the month of June, down from the 13 sales recorded last month and from the 6 sales recorded in June of last year.
New infill townhome inventory is up to 17 active units for sale, from 14 active units recorded last month, but down from the 25 active units recorded at this time last year.
Although months of supply have reversed their trend and inched upward last month, supply for both single and multi-family new infills still remains critically low. Even with the threat of another interest rate hike on the horizon, it's hard to say for certain if this will be enough to help ease demand so that supply could head back towards more balanced conditions.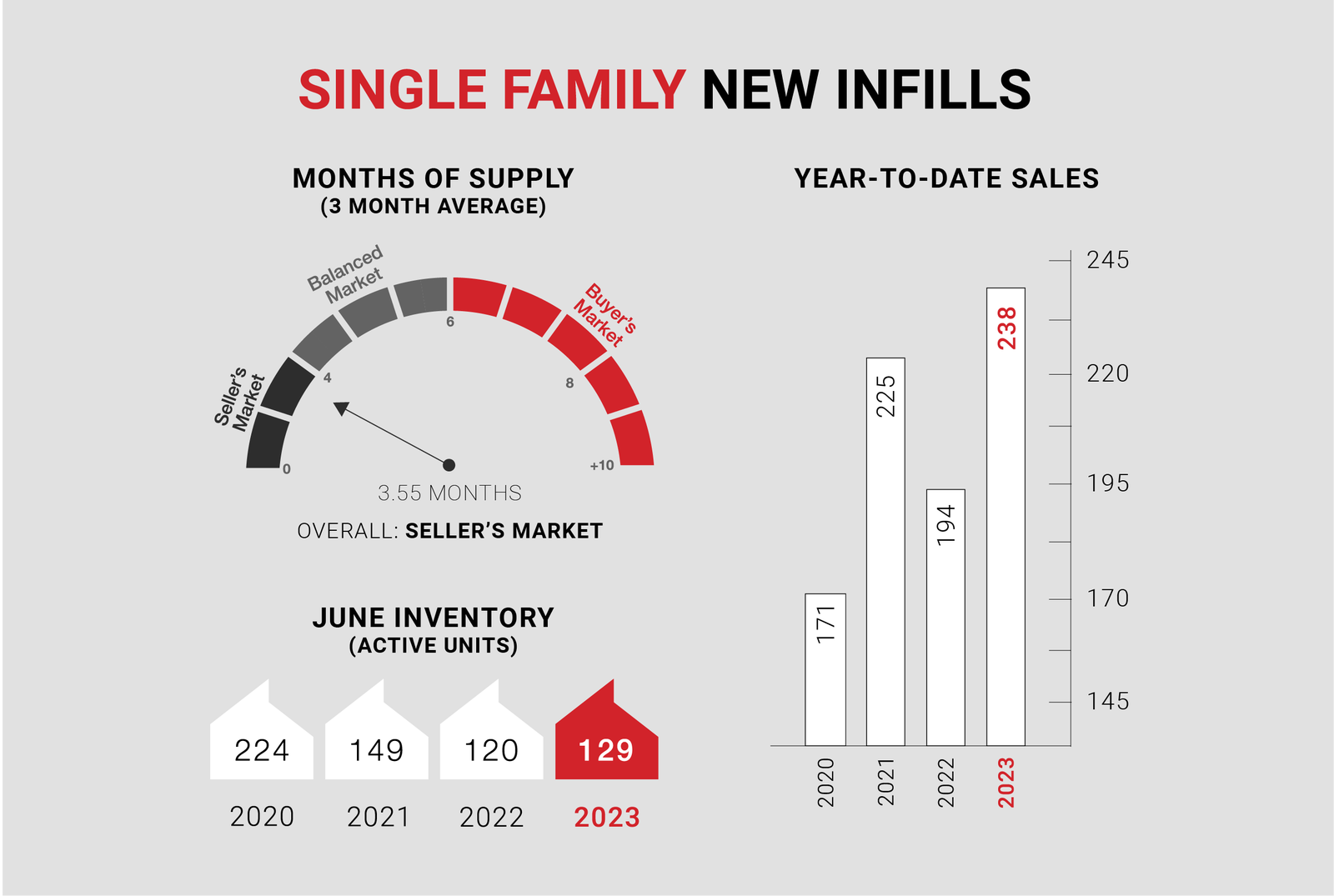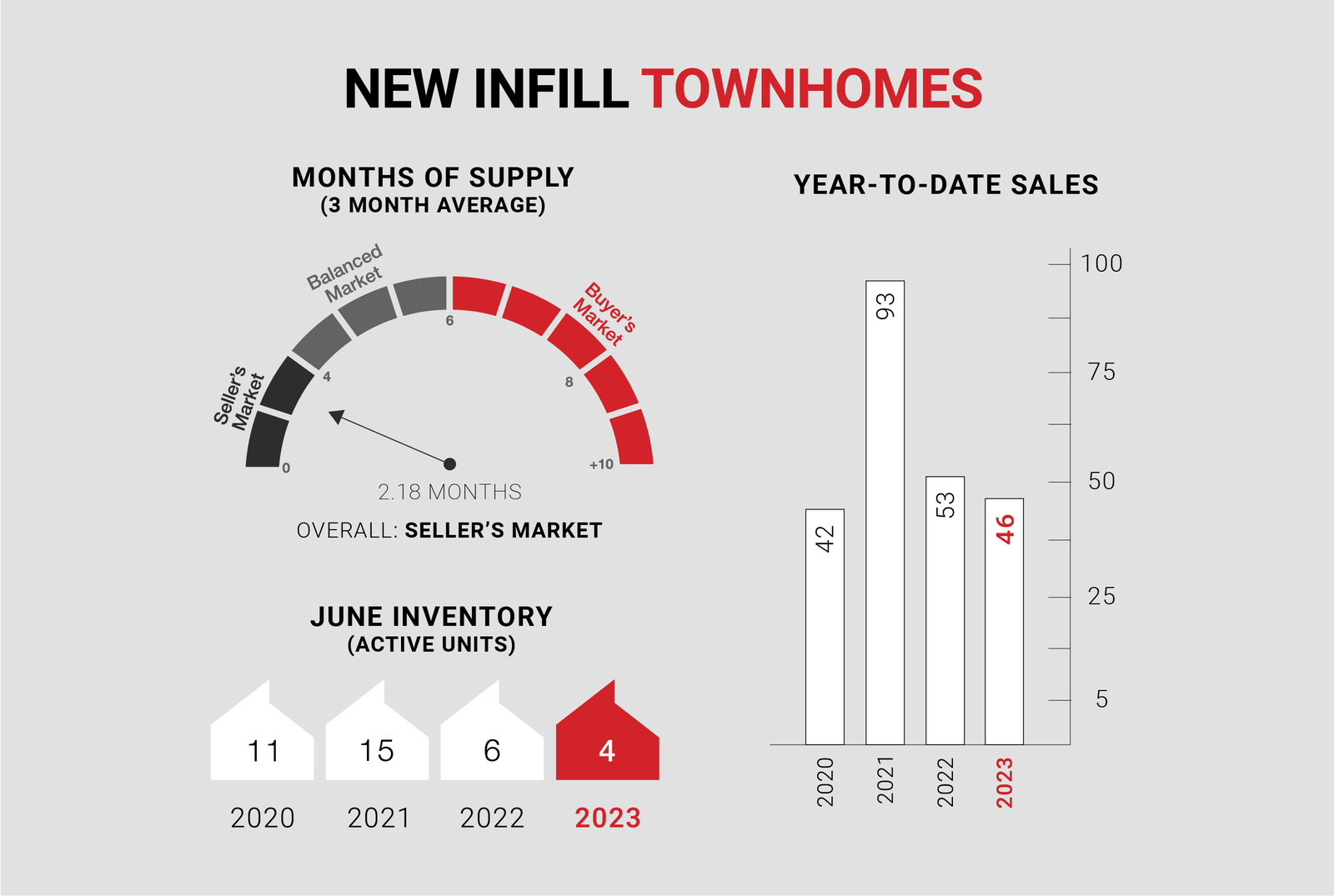 CALGARY MARKET UPDATE (CREB)
City of Calgary, July 4, 2023 -
 The housing market in Calgary witnessed a surge in apartment condominium sales, setting a new total residential record with 3,146 sales achieved in June. Although year-to-date sales are currently 23 percent lower than last year, they remain significantly higher than pre-pandemic levels.
Notably, there has been a positive trend in new listings, providing relief and a monthly increase in inventory levels. However, despite these improvements, the inventory for June stood at 3,458 units, marking a decline of over 36 percent from last year and reaching the lowest levels for June in nearly two decades.
"The demand for housing remains robust, bolstered by a healthy labour market and increased migration levels, which helps offset the impact of higher lending rates," said CREB® Chief Economist Ann-Marie Lurie. "Although we have seen some recent improvements in new listings, particularly for apartment condominiums, it is not enough to cause any substantial change from the low inventory situation in our city. While new home starts are on the rise, it will take time to observe their impact on supply."
With a supply of just over one month, the current market conditions continue to favour sellers, placing upward pressure on home prices. In June, the total residential benchmark price reached $564,700, representing a monthly unadjusted gain of one percent and four percent higher than last year's levels.