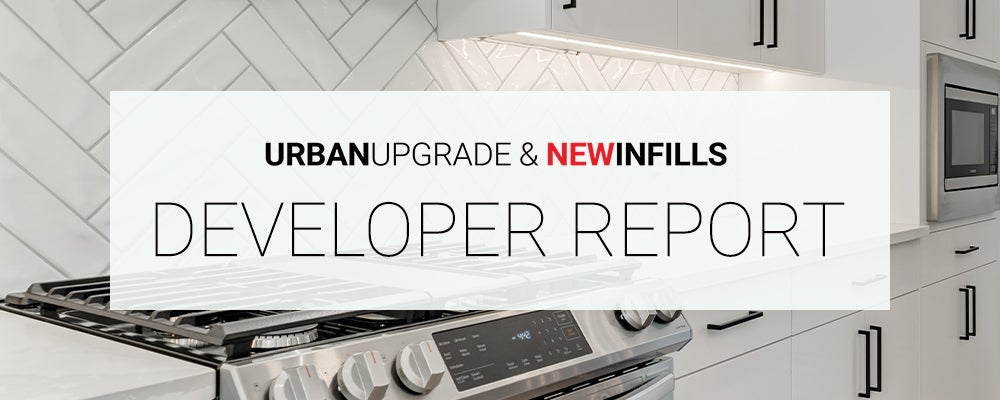 Single family new infill sales remain strong while new infill townhome inventory reaches critically low levels.
Single-family new infills posted 33 sales during the month of August, up from the 25 sales recorded last month, and up considerably from the 9 sales recorded in August of last year.
Single-family new infill inventory has eased slightly, to 149 active listings, from 151 active listings recorded last month, and is up from the 124 active listings recorded at this time last year.
New infill townhomes post 6 sales during the month of August, same as last month, and is up from the 3 sales recorded at this time last year.
New infill townhome inventory is down further, to 11 active units for sale, from 15 active units recorded last month, and is down considerably from the 20 active units recorded at this time last year.
Sales activity is expected to remain steady for the coming weeks as kids head back to school and buyers who may have been distracted by holiday activities resume their searches. Prices in the single-family new infill sector are expected to remain steady as we into the cooler months however new infill townhomes are likely to see further price escalations given exceptionally low inventory levels.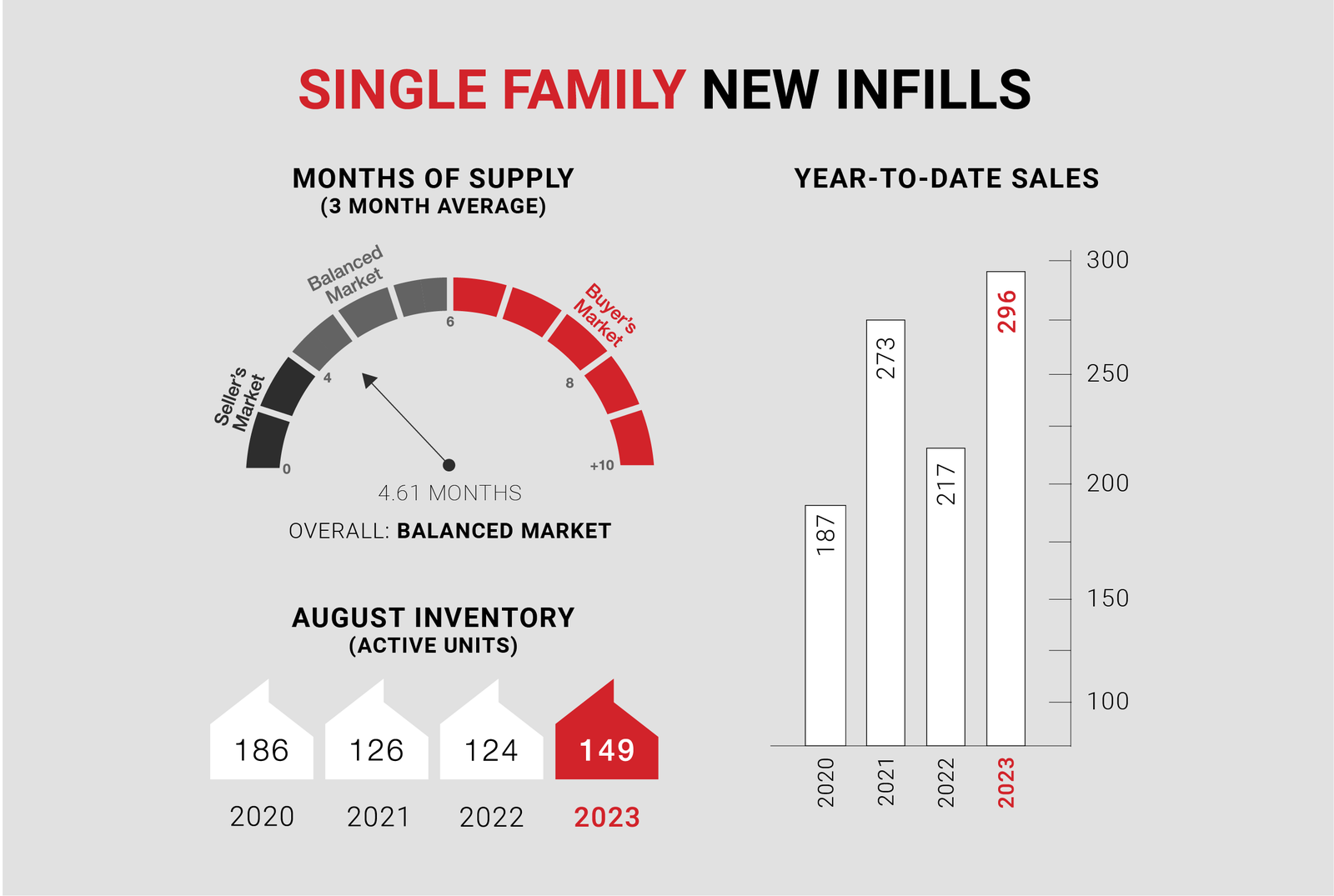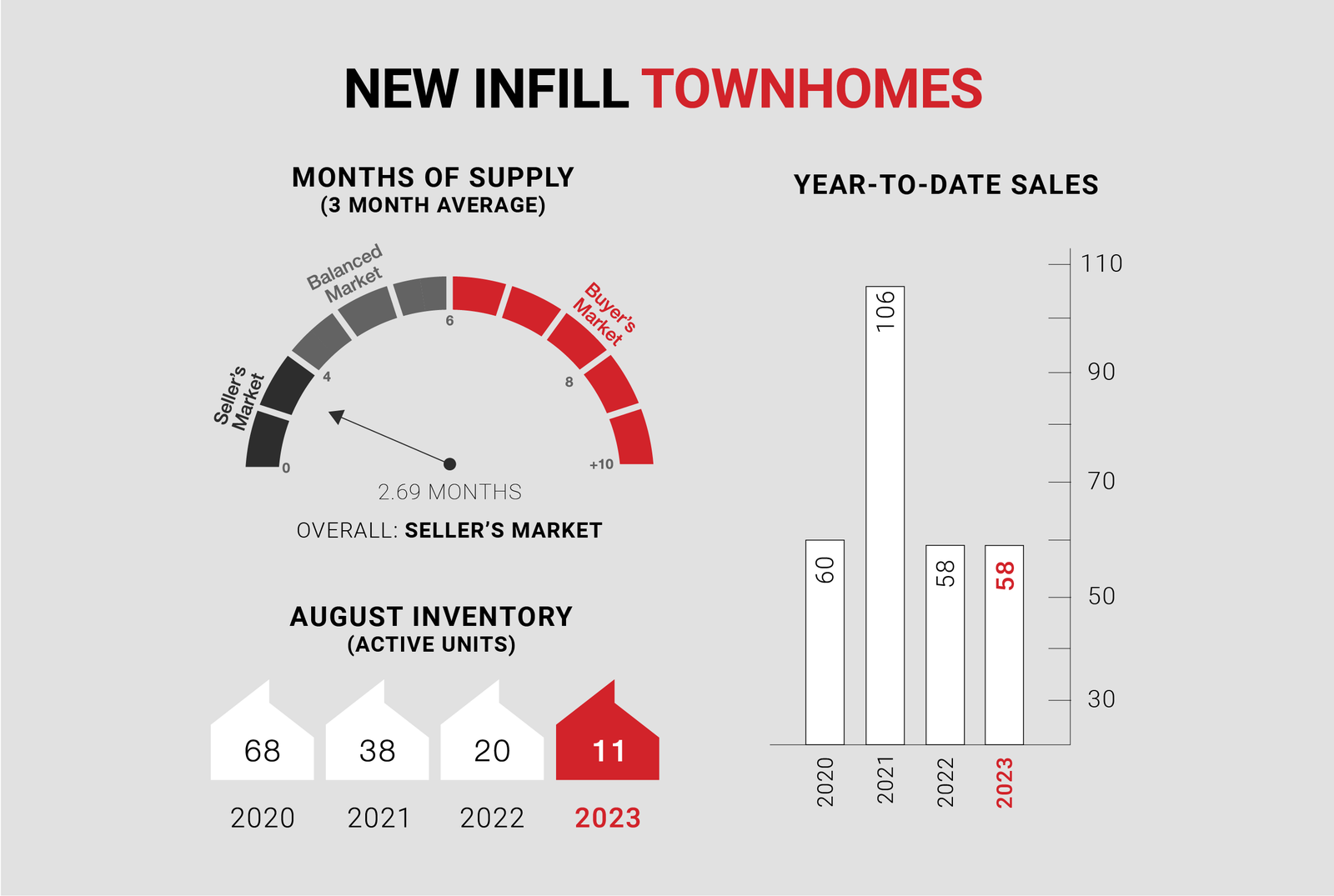 CALGARY MARKET UPDATE (CREB)
City of Calgary, September 1, 2023 -
 Thanks to a surge in the condominium market, August sales reached a record high with 2,729 sales. Despite the record levels reported over the past several months, year-to-date sales are still down by 15 percent compared to last year.
While new listings did improve compared to levels seen this time last year, the sales-to-new-listings ratio remained elevated at 87 per cent, preventing any significant shift from the low inventory situation. Inventory levels in August dropped to 3,254 units, not only a record low for the month but well below the 6,000 units that are typically available. Low inventory combined with high sales this month ensured the months of supply remained low at just over one month.
"Higher lending rates have caused many buyers to either hold off on purchase decisions or shift toward more affordable products on the market," said CREB® Chief Economist Ann-Marie Lurie. "The challenge has been the availability of supply, especially in the detached market. Inventory levels hit record lows in August, and while new listings are higher than last year, conditions continue to favour the seller, driving further price gains."
The unadjusted benchmark price reached $570,700 in August, representing the eighth consecutive monthly gain. Prices have trended up across all property types, with row-style properties reporting the largest increase.