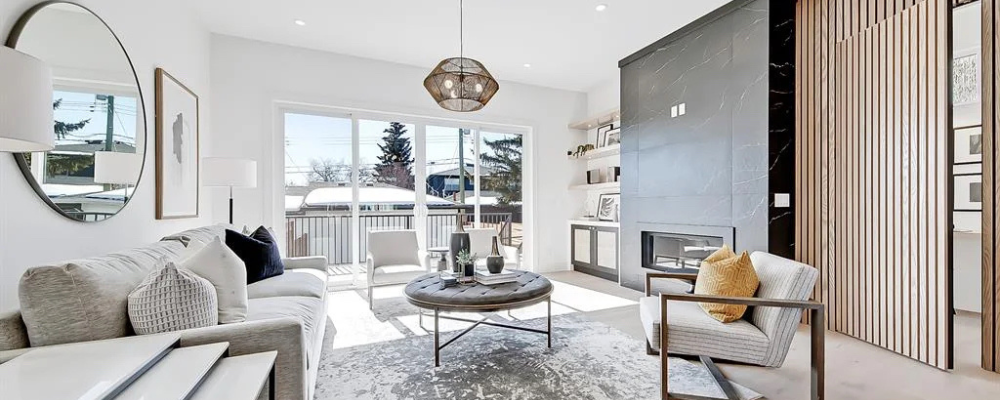 Builders and developers have a lot of difficult decisions to make throughout an infill project.
It's important to save money where you can, but you don't want to skimp on the features most buyers are basing their decisions on. Whether you're designing a spec home or mainly selling presale, don't forget to design for the buyers who are shopping. Many of the following features are tried, tested, and true, and therefore very important to be included in a new home if you want to be able to compete with other projects in the area. Buyers want to feel like they've bought a luxury home, so here are 10 features to make it happen!
Note: These features are even more important when selling presale because the buyers are mostly focused on the floorplan and the color scheme. They can't walk through the home to see the finished product details, so they're basing their decision on what's provided on paper.
1) 10ft Ceilings on the Main & Minimum 9ft Ceilings on Other Levels
We're not in the 90's anymore, and buyers expect tall ceilings. An infill without 10ft ceilings on the main can be a deal breaker because it's becoming standard for new builds across the board. They make the home feel larger and let in so much extra natural light. Lower ceilings make a home feel older and darker, and we can almost guarantee buyers will express disappointment if there are lower ceilings.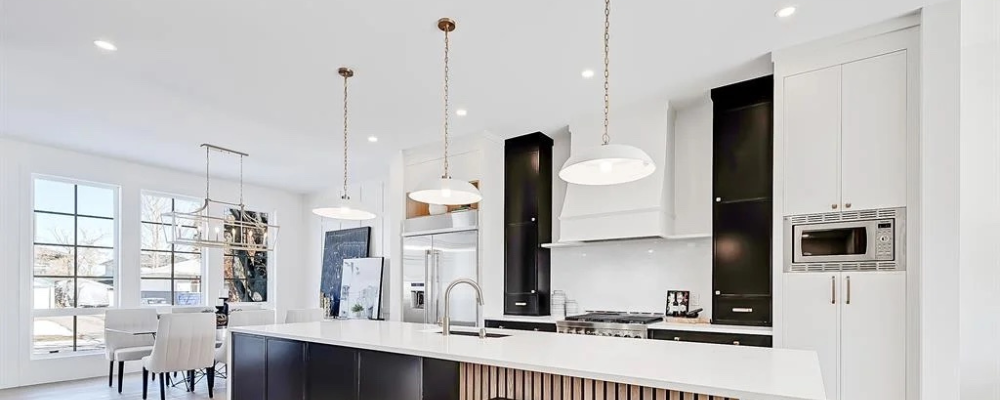 2) Large Windows Throughout
Infills have earned the stereotype of being dark from the infills of decades past, but the stigma is reversing with better layouts and the addition of large windows and glass doors. Every home and homeowner deserves the beauty of natural light, so expect this to be a deciding factor for many buyers. Large windows make a home feel larger, and a double glass patio door in the living room takes it to the next level. The light that floods in, along with views of the backyard, makes the home feel more open and airy.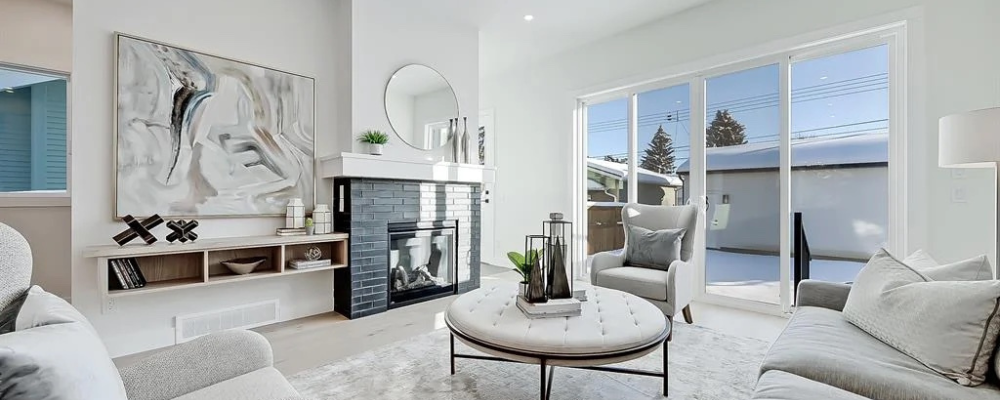 3) Large Rear Mud Room with Lockers
Everyone has stuff to hide. A large rear mudroom with lockers and hooks (a coat closet doesn't hurt either) remains a very trendy way to quickly stash coats and shoes. Kids or not, we all have a tendency to stash stuff at the entrance/exit of our homes, so this feature is the easiest and most efficient way to keep a home looking tidy. Out of sight, out of mind, right?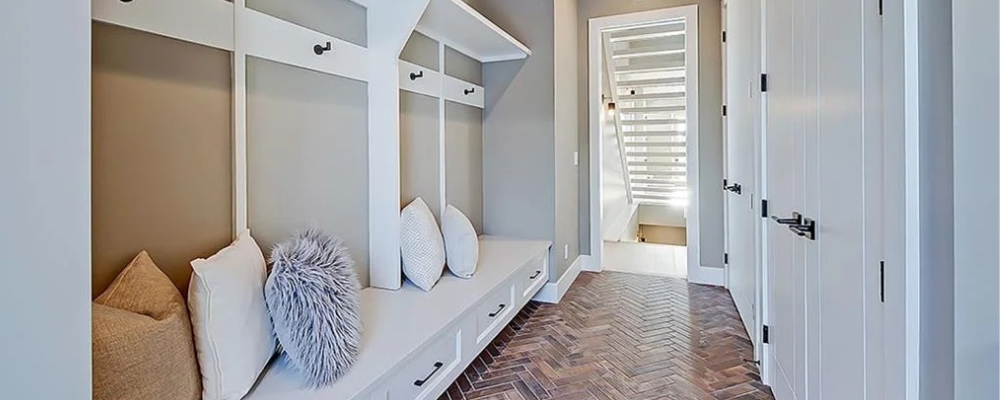 4) Laundry Room with Sink & Hanging Space
This feature is another potential dealbreaker for so many buyers, especially for families. The laundry room is an integral part of home life, and the easier it is to accomplish this chore, the more desirable it is for the buyer. Skimping on the size and features by settling with a laundry closet or tiny laundry room can be the difference between "We'll take it!" and "We'll keep looking." Don't forget the laundry sink and enough hanging space for the whole family!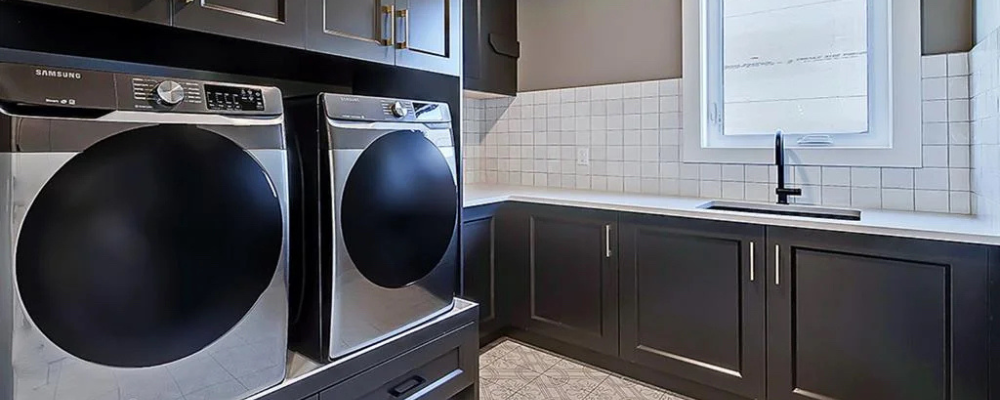 5) Ceiling Height Cabinets in Kitchen
The kitchen is one of the first rooms a potential buyer sees, and it's important to make a great first impression. Ceiling-height cabinets can give a standard kitchen that wow factor your buyer has been searching for and instill confidence in the quality of the build before they even see the whole home. Even if the upper section is an unusable bulkhead, the look of finished cabinetry exudes luxury. Having that noticeable gap between cabinets and the ceiling makes a home feel older and cheaper (and dustier), so it's worth going the extra mile.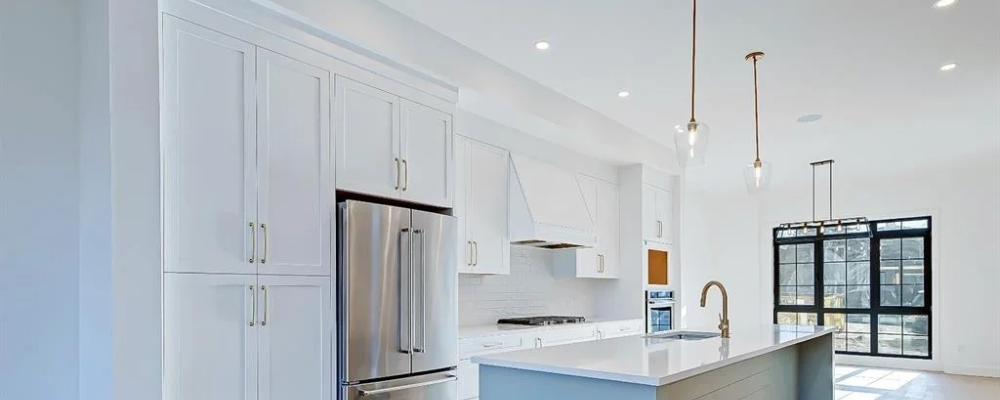 6) Large Kitchen Island with Bar Seating
Raised bars are OUT (like a long time ago), and large, counter-level islands with bar seating are IN. Visually, this opens up the kitchen, creates more workable space, and looks more expensive. Bonus points if you can fit 5+ people at the island bar. Buyers like the idea of entertaining and showing off their new home, which usually revolves around the kitchen. The more the merrier!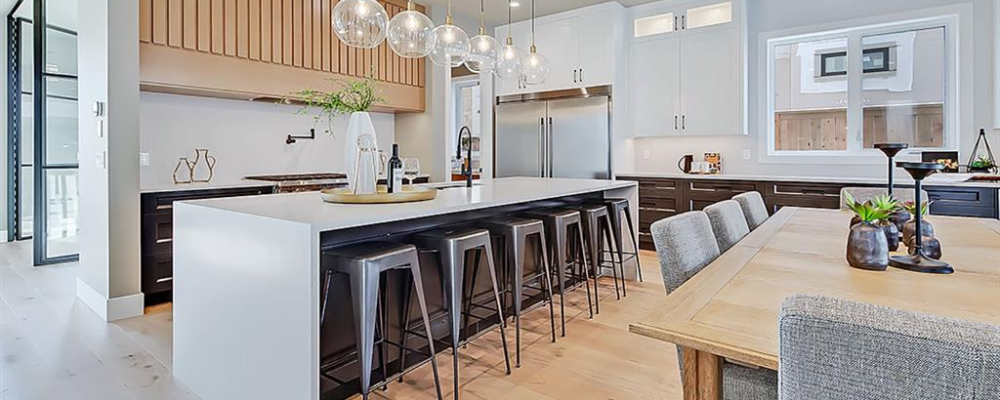 Plastic inserts feel very cheap to buyers, and they probably shouldn't be installed in a new infill based on the typical clientele. Take the extra time and money, and tile the showers from the floor up. It's worth it in the end because it elevates the space from basic to luxury. Discerning buyers will be very aware of this upgraded feature and love the home that much more due to quality.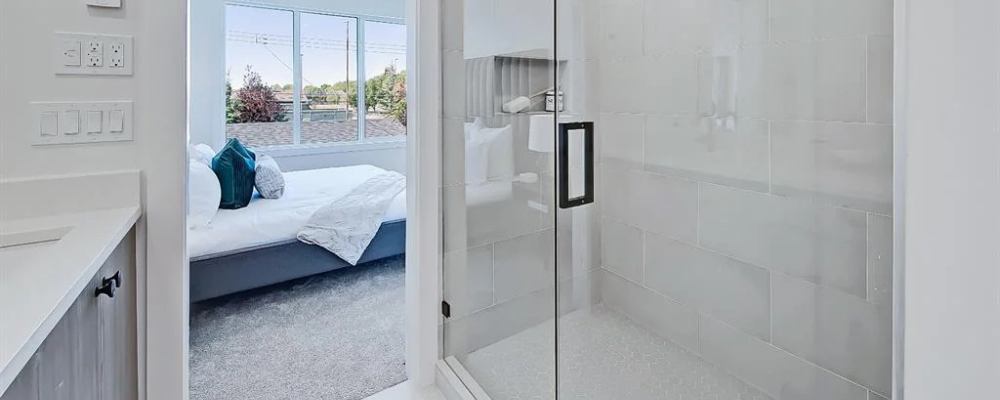 8) Primary Bedroom Ensuite
Repeat after us: The primary ensuite MUST HAVE TWO SINKS and a SEPARATE TOILET with a door. Anything less won't sell well. Then take it up a notch and open up this space even more by adding glass walls on the shower and put in a tub. Having a tub in the primary ensuite is often debated because most buyers don't actually use it, but the idea of not having one is a huge negative for most. Go the safe route and install a tub in the primary, and you'll get extra attention if it's free-standing. This will go a long way for buyers and resale.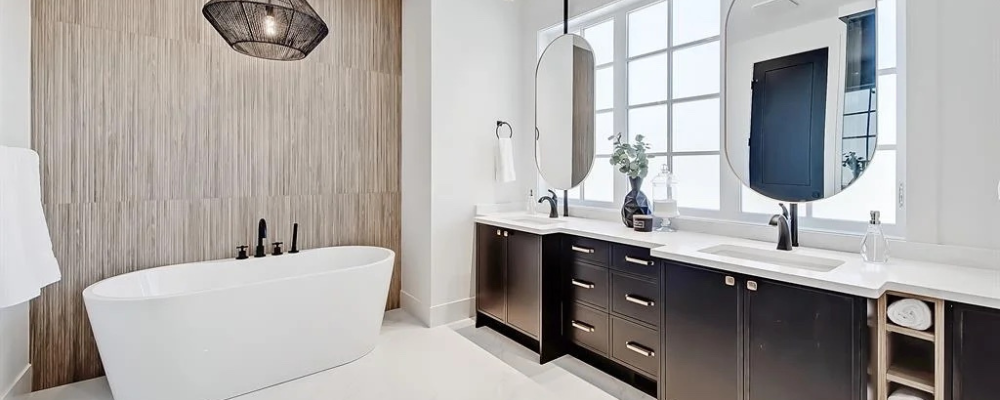 Over the past decade or so, it's become an expectation for basements to include a bar. Despite the fact that most buyers don't use the basement for entertaining on a regular basis, the expectation remains. This can be as simple as a wall bar with lower cabinetry and a bar fridge. Upper cabinets are not necessary if you want to save money, and a simple feature tile with floating shelves can work really well here. The main idea is to provide a space for wine glasses, extra drinks, and some bottled liquor. Many buyers even use it to store games and toys, so keep this a flexible space. A sink or dishwasher isn't needed on a spec build, but having this as an option for custom presale is a good idea.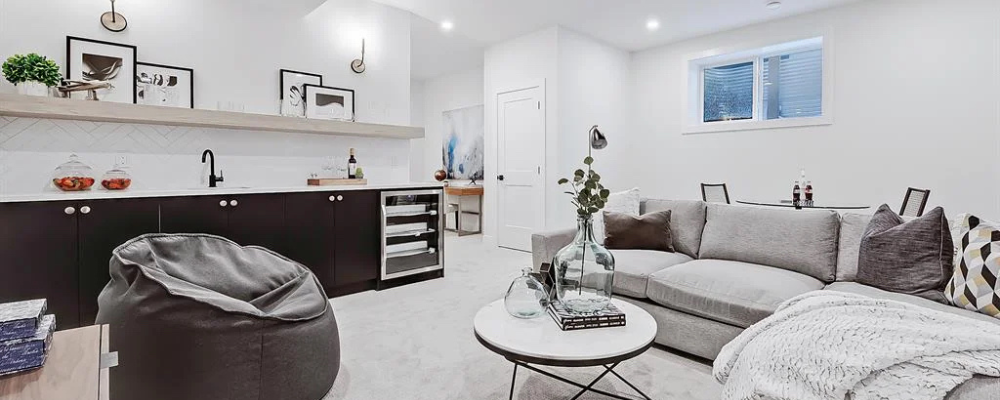 10) Decent-Sized Rear Deck or Patio
Infills tend to have a less-than-stellar reputation for having small yards, so you want to do your best to showcase what space there is and make it feel larger. The rear deck or patio should be accessible from both the back door/rear mudroom and the living room. Ideally, the deck/patio should be at the same grade so there are no stairs right off the living room. Where possible, also having the patio or deck as close as possible to the grade of the yard makes the backyard feel that much bigger. This will eliminate the need for a railing on the deck/patio, which makes the outdoor space feel even roomier.