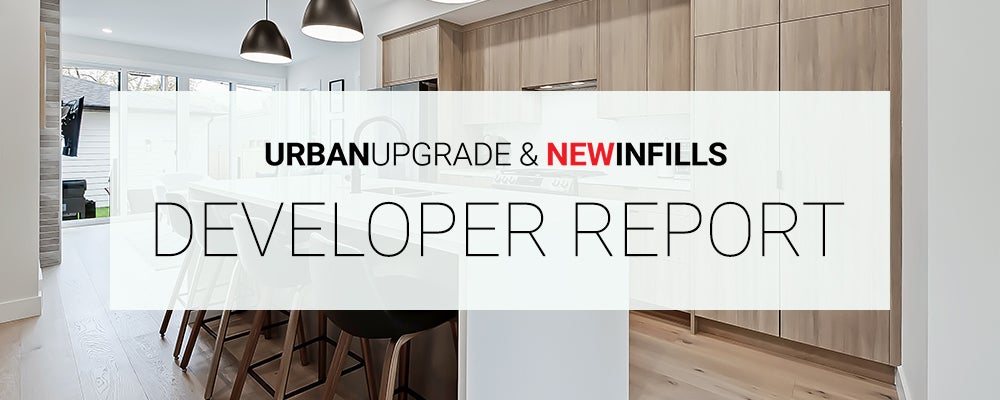 Single-family new infill sales remain steady throughout October while new infill townhome sales continue to dwindle.
Single-family new infills posted 25 sales during the month of October, down slightly from the 27 sales recorded last month, however up considerably from the 13 sales recorded in October of last year.
Single-family new infill inventory decreased slightly in October, to 149 active listings from 156 active listings recorded last month, but increased from the 129 active listings recorded at this time last year.
New infill townhomes posted just 2 sales during the month of October, up slightly from the 1 sale recorded last month but down from the 3 sales recorded in October of last year. With most active products listed well above $650,000, slower sales are likely a result of affordability and not decreased demand.
New infill townhome inventory remains steady compared to last month at 13 active units for sale, however down slightly from the 16 active units recorded at this time last year. New infill townhome inventories continue to see depressed construction starts as most developers opt to hold new projects as purpose-built rentals instead of selling individual units.
With the latest interest rate announcement leading to no further gains in interest rates, we are likely to see the new infill market hold steady as we start to enter the winter selling season.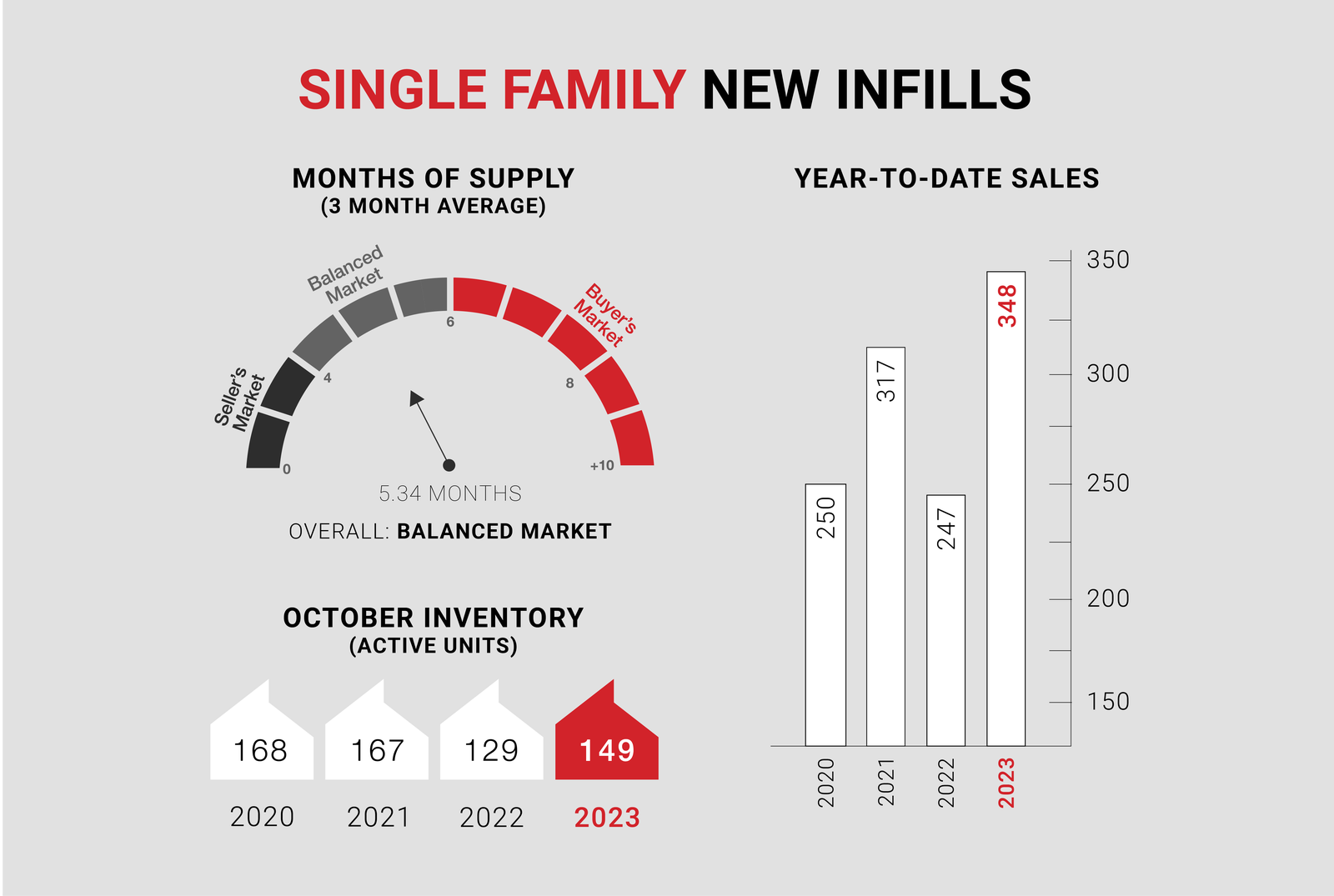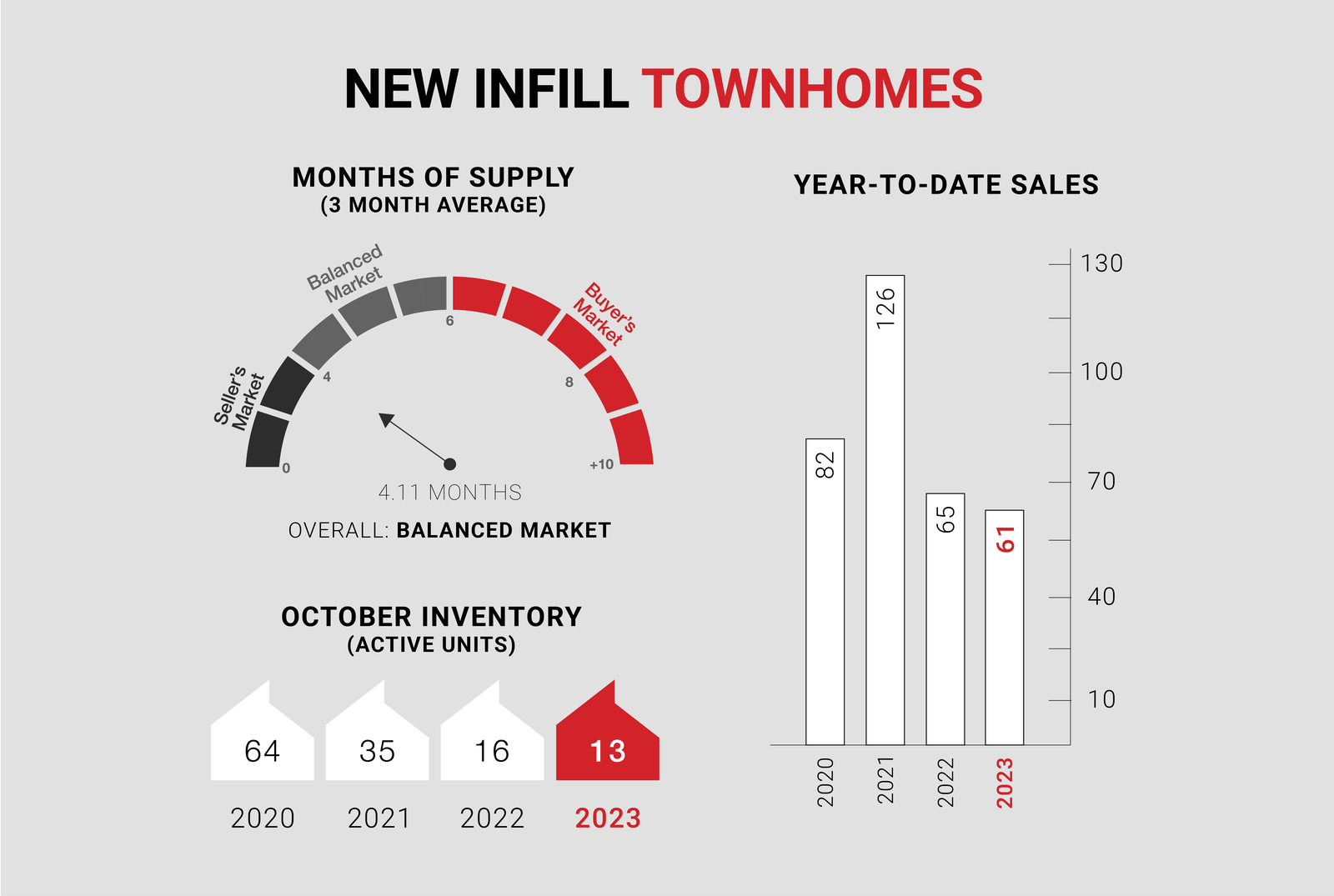 CALGARY MARKET UPDATE (CREB)
City of Calgary, Nov 2, 2023 - 
October sales activity slowed over the last month in alignment with typical seasonal patterns. However, with 2,171 sales, levels were 17 percent higher than last year and amongst the highest levels reported for October. Sales activity has been boosted mainly through gains in apartment condominium sales as consumers seek affordable housing options during this period of high interest rates.
New listings also improved this month compared to last year, reaching 2,684 units, reflecting the highest October levels reported since 2015. Despite the gain, relatively strong sales prevented any significant shift in inventory levels, which remain over 40 percent lower than levels traditionally available in October.
"Despite some recent improvements in new listings, supply levels remain challenging in our market," said CREB® Chief Economist Ann-Marie Lurie. It will take some time to see a shift toward more balanced conditions and ultimately more price stability."
With a month of supply of one and a half months, we continue to experience upward pressure on home prices. The unadjusted benchmark price in October reached $571,600, a gain over last month and nearly 10 percent higher than last October.