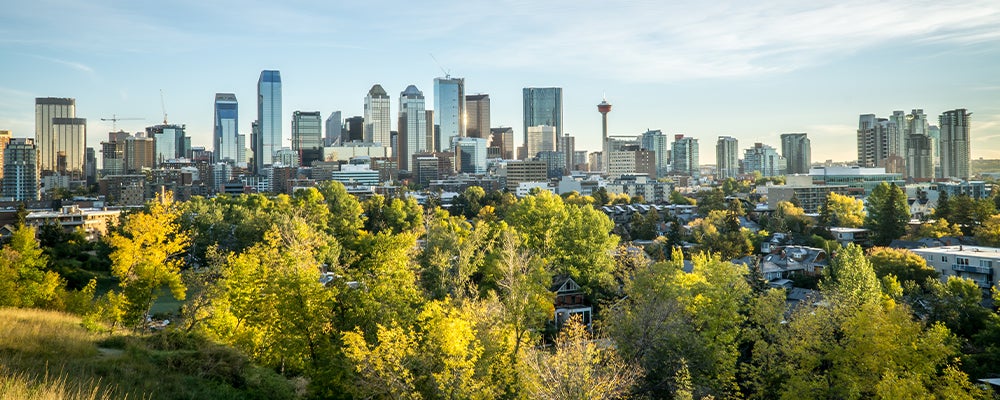 If you're at all familiar with New York City, you'll know the areas surrounding Manhattan, such as Brooklyn and Queens, were not very popular for a long time.
From the viewpoint of Manhattanites, such places were unappealing and undesirable...BUT that has all changed and continues to change. In fact, Brooklyn has topped most lists for trendy neighbourhoods over the past several years. 
As with any big city, its boundaries tend to expand, and new trends emerge. This means more opportunities for a "rebirth" of old communities into up-and-coming neighbourhoods. We believe getting in on the ground level before the next "hot spot" is officially trending is key to ROI for new developments. With this in mind, here is our list of 5 up-and-coming infill communities you should be watching, and if you're in a position to, investing in. 
Bowness Park features a train, outdoor ice skating, a lagoon, and nature-laden walking trails; Shouldice Park is home to batting cages, soccer fields, and a 15,000 sq ft accessible playground; and WinSport is minutes away for anyone looking to ski or mountain bike.
Bowness Road offers many options for shopping, restaurants, and amenities. Local favourites include Salt & Pepper, Cadance Coffee, Bow Cycle…just to name a few! You're also in close reach of schools and playgrounds, no matter where in the community you reside.
Historically considered a bit of a "rougher" community, Bowness has seen a rapid transformation in recent years due to significant investment into infill development. Still one of Calgary's most affordable infill communities, Bowness' growing popularity with young families and urban buyers has already led to significant appreciation in market values which is expected to continue along with infill development. 
Glenbrook in the city's southwest was established in the mid-fifties and has seen many new infill developments in recent years. This is a community in the heart of the inner city, close to the downtown core and featuring the schools, services, and other businesses you'd always expect to find in an older neighbourhood. Glenbrook's location on the western edge of Calgary ensures that the area's real estate value is very likely to increase in the coming years.
Glenbrook is adjacent to the Optimist Athletic Park and enjoys convenient access to major routes such as Crowchild Trail, 17th Avenue SW, Richmond Road SW, and Sarcee Trail. There are several businesses in the neighbourhood and surrounding area, and Glenbrook is right next door to the shopping and movie theatres of West Hills.
Renfrew is situated just north of Bridgeland and is a northeast community with a very favourable inner-city location. Downtown is just a short distance down Edmonton Trail, and nearby 16 Avenue North and Deerfoot Trail provide easy access to every other part of Calgary.

Renfrew was established in 1950, and in some parts of the community, new infills are replacing older homes, giving the area a fresh look and considerably enhancing its reputation as an excellent choice for those homebuyers looking for new homes in the heart of the city. Renfrew is currently very affordable compared to other inner-city neighbourhoods where infills have become very popular. Still, property values are expected to increase, making Renfrew a desirable option very close to the downtown core.

The northeast community of Tuxedo Park offers residents an urban lifestyle close to the downtown core without dealing with heavy traffic. Infill developers have long recognized the neighbourhood's excellent location, and older residential properties in the area have steadily been replaced by beautiful infill homes in various modern styles.

Tuxedo Park residents enjoy a short commute to the downtown core along Centre Street. Major routes nearby include Edmonton Trail, 32nd Avenue NE, the Trans Canada Highway, and Deerfoot Trail. The Bow River and its extensive pathway network is only a fifteen-minute walk south of the community, and the beautiful Confederation Park lies just to the west. The community will also benefit from the upcoming Green Line LRT and the construction of the Tuxedo Park station, increasing the area's property values and investment opportunities for new infill buyers.